After writing

the first

Father and Son

poem

, I got some great feedback from friends and soon realized I still had more to say.

Thus,

Father and Son 2

was born.

In the first poem, the father takes his time to reply and try to show his son a beautiful way to live his life. It's kind of stated in bigger terms that a lot of parents speak in, where it's like "be good" and "help others" and all of that. But here's the thing: when it comes to parenting, kids can sometimes be jerks. And express/profess opinions that you think are absolutely wrong. And you still have to love them.

Men! Dudes! Bros! Countrymen! Dude-Bros! Bro…dudes…
​
Tired of women having to tell you how they're "feeling" all the time?
Sick of being told that your comments hurt someone's "feelings?"
Done having to be PC because people's "feelings" are being offended?
Are you constantly putting the word "feelings" in air quotes because you just can't even?
Scared to talk a woman because you might accidentally become a rapist?

First of all, I don't like calling it a "MeToo Era," because it feels like I'm saying that it's a brand new thing that suddenly's been happening. Like men haven't been the perpetrators of horrific sexual crimes for thousands of years. But I couldn't think of a better title for this post, so here we are.
​
In response to some recent events in our country, as well as inspiration from recent conversations I've had with friends, I wrote a poem, which I present to you now without further comment:
Powered by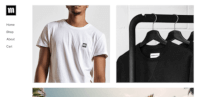 Create your own unique website with customizable templates.