This post was originally published on a second blog I maintained for a brief time when I was a stay-at-home parent full-time. For archival purposes, I have copied it over with no edits.

Man! It's been a long time since I've updated this blog!

Tomorrow, my oldest turns 9. Nine years ago tomorrow, I became a father. In honor of this occasion, I thought I'd write down some thoughts and reflections on fatherhood.

Surprisingly, when I sat down to write, my thoughts came out in verse.

Enjoy:


Since posting

my last post on

Iron Fist

, I've completed the series and kept telling myself that I was done with it. As the show went on, I liked it less and less but wanted to write about it more and more. I still have some

Iron Fist

demons that need to be exorcized, because I still find myself talking about or thinking about this show on an almost-daily basis. And I feel a little bad because I don't want it to be all critically negative stuff. I also wanted to discuss some of its greatness (like Claire Temple and Madame Gao), some of its goodness (like some of the not-Danny-Rand-performances), and some of its awkwardnesses (like every time Bakuto speaks).

But I still haven't said my peace on the martial arts and action of the show. And it turns out Episode 8, "The Blessings of Many Fractures," provides some really great concrete examples to talk about. AND, since the show's been out for a little longer now, it's easier to find clips of specific fights streaming online. So here goes!
Powered by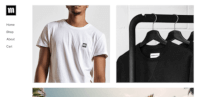 Create your own unique website with customizable templates.