Student Evaluations and Comments
---
Evaluations of my instruction are crucial components of my pedagogical development. And I don't just mean end-of-term evaluations. If that was all I relied on, there would be no way to productively develop my teaching during a course. Any comments students leave at the end of the term has absolutely no benefit for them. It may improve the experience for a future class, but a future class may also have completely different needs.
End-of-semester evaluations are incredibly important, and I'll talk about them more in a bit. But first I want to stress the importance of regular in-class assessments. If you've already read about some of my favored assignments in the Course Materials section, you'll know that I assign weekly response papers, or "minute papers." These provide a great quick way to assess how students are doing in class and what they're thinking. Additionally, every few weeks, my students have the opportunity to provide anonymous feedback on what's working, what needs work, what they'd like to see more of, what they'd like to see less of, etc. Whenever possible and appropriate, we also engage in these discussion during class. I believe that when they see that I am truly open to hearing out any ideas they may have, and changing my approach based on their needs – within limits, of course – they open up in beautiful and productive ways.
I think one student said it best during a meeting when I asked him how the class was going for him. He said that he loves the fact that I take their suggestions seriously and am willing to try out new things. When that happens, he can't really complain about the class, because he knows that I've at least given it a try.
Whenever possible, I also make sure to take advantage of Georgia State University's available resources for faculty development. The campus has a great group of folks working at the
Center for Instructional Innovation and Center for Instructional Effectiveness
offering all kinds of services. One of these services is the Group Instructional Feedback Technique (G.I.F.T.) session that involves one of their representatives taking the time to ask your students 5 questions:
​
What does the instructor do that helps with your learning?
What changes/improvements to the course would promote your learning?
What do

you

do that facilitates your learning?
What might

you

do to improve your learning?
What has been the hardest thing for you to learn in this class?


Part of the session's purpose as I understand it is to provide you and your students with a good starting point for a conversation aimed at improving the classroom experience for everyone involved.
Click here for the results of the GIFT session done in my Spring 2013 Chinese Cinema Class
.
As I mention in my teaching philosophy, I really think the action of learning is criminally ignored. And then we're surprised when our students can't provide us with useful feedback in their evaluations! I think one evidence of the effectiveness of my approach is the constructive and thoughtful comments I receive in my students' evaluations. I also find it particularly telling that as I increase the emphasis on reflection and learning how to learn with each succeeding class that I teach, I also see an increase in number and depth to the comments left in my end-of-semester evaluations.
End of Semester Evaluations
The following averages are based on evaluations from 3 classes taught at Georgia State University: 1 section of History of Motion Pictures and 2 sections of International Cinemas.
Total Respondents: 84
Student Response Rate Average: 91.76%
Scale ranging from 5 (Very Descriptive) to 1 (Not at All Descriptive)
Evaluative Statement and Rating Average
​1. Explained the goals of the course clearly
2. Explained the grading system clearly
3. Gave assignments related to the goals of the course
4. Followed the plan for the course as established in the syllabus
5. Was well prepared
6. Spoke in a way that communicated the subject understandably
7. Responded constructively & thoughtfully to questions & comments
8. Used class time effectively
9. Had designated office hours and was available during those times
10. Assigned grades fairly
11. Returned test results & evaluations of within a reasonable time
12. Met the class according to the published Schedule of Classes
13. Stimulated my thinking and gave me new insights into the subject
14. Related well to students
15. Motivated me to learn
16. Assigned readings that contributed to what I learned

For Question 17:
5 = Very High; 4 = High; 3 = Average; 2 = Below Average; 1 = Poor; 0 = N/A

​17. Considering both the limitations & possibilities of the subject matter & course, how would you rate the overall teaching effectiveness of the instructor?

4.83
4.76
4.86
4.83
4.93
4.93
4.9
4.9
4.86
4.9
4.83
4.93
4.9
4.9
4.83
​4.83





​4.83
Student Comments
The following are
ALL
the comments – in no way edited – I received anonymously in end-of-term evaluations. I've grouped them here by class in reverse chronological order:
Spring 2014 - International cinemas: A History of chinese Cinema
I can say Mr. Rezaie pushed my thoughts and writings in ways that were refreshing. Favorite teacher I have had and would suggest anyone for his courses.
This class was great. I feel like I got a much better understanding of China. I only wish there was a little more time given to solidifying the facts.
He's a good guy. For some reason I always walk out of his class feeling like we didn't do anything, but I actually did learn a lot about Chinese Cinema.
Stimulated great discussion and focused more on learning and exploration of the subject rather than rote memorization. Great class!
I was impressed with Professor Rezaie's articulation and overall presentation. He is well deserving of the position as a Doctoral candidate. I am pleased to have had the experience of being in his class.
By far the best professor I've ever had in GSU, especially in the Film Major. He actually encouraged us to learn more than the curriculum itself. That's a rare quality but surely speaks volumes about him.
The most awesome class I've ever taken! We learned about our subject and learned about the action of learning itself! Professor Rezaie is definitely my favorite professor I've had in my college career!
The professor is one of those few who worries more about the student learning rather than the grades. Best professor I've had at GSU.
Great Instructor!! I think it is great that the powerpoints were available, love that the change to the un-pop quizzes and the film and reading responses really did help! I really enjoyed writing the Meta Response!
This professor was very open minded about new ideas and never said anyone was wrong. He always tried seeing things from our point of view and took our ideas into consideration. He made me want to learn more about Chinese cinema.
Munib Rezaie did a great job at presenting a unique way of teaching that I think was very successful. His curriculum allowed us to interact with the course content throughout the entire semester resulting in a far more effective learning process than I've had in some of my other film classes. I had very little interest in the subject matter before this class, but Rezaie was such a dynamic and relatable teacher that he could make any subject enjoyable.
Great instructor, very concerned about connecting the content with the students in a way that is beneficial to the students.
I enjoyed this class way more than I originally planned, and I believe it is because of you. Every assignment not only helped me in the class, but also helped my writing of assignments in other classes as well. I will definitely carry what I learned in this class well beyond the time I spent there. Thank you!
This was the best class I have taken here at georgia state. I learned more from this class than I have in any of my others.
There is more to this class than you think if he is your professor. He will make learning about Chinese cinema very interesting and fun.
Good educator, GSU should try to keep him
One of the best teachers I have ever had. I didn't think I would get excited about the subject going into the class. But I came out of it very passionate about Chinese cinema.
Very great course taught in a different, yet effective way.
Spring 2013 – International Cinemas: A History of Chinese Cinema
Great teacher and loved the class. Would take him again if given the opportunity.
He gives grades back faster than any Professor that I've ever had. He is extremely knowledgeable about the subject.
This was a great course and he taught very effectively, listened to the students and was able to compromise and make a class that fit everyone's needs!
This was, hands down, the best class I've ever taken at GSU, and I think a huge reason for that was Munib Rezaie. He made class fun and interesting every single day. He relates extremely well to his students and I can tell he truly cares about his students' success. He's a wonderful instructor.
I was originally skeptical about taking this class. However, it has been one of the most interesting required courses that I have taken thus far. I do believe it has a great deal to do with the teacher and his construction of the course. I had a wonderful experience in this class and would definitely recommend it/any other courses that this professor teaches!
Professor Rezaie was very attentive throughout the course. He made class enjoyable with this laid back attitude but also interesting because of his enthusiasm about film. He is a great teacher who cares a lot about his students.
Really made the class interesting
A great class! The assignments made learning about Chinese cinema much more interesting, especially the responses!
Very good class. It is obvious that Munib is very knowledgeable of Chinese cinema. He connected well with the class and made class both educational and entertaining.
More structure for assignments and their due dates. Redistribution of the weight of various assignments
Spring 2011 – History of Motion Pictures
Probably my favorite teacher this year. Very cool made going to class worth it
I loved this class, the teaching was handled in a great manner, I even switched my minor to film because I enjoyed it so much
Great class. Excellent instructor.
Awesome teacher who made the class interesting!
Great instructor, enjoyed the class. Munib made the class fun, interactive, and useful (in a long run). Thank you Munib for the great semester!
Great teacher! I really enjoyed the class and the way he presented the information!
Munib is an amazing teacher! He really takes the time to know each student, and cater to our wants as a class. If you have a question dealing with the work, or just out of curiosity, he does his best to get back to you. He taught us the required material, and then some interesting information that the class wanted to learn
I truly enjoyed this course with him!
Great teacher. Favorite class of the semester. Made everything interesting.
A+
Powered by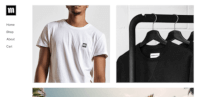 Create your own unique website with customizable templates.