Evidence of Student Learning
---
If you've already read the other sections of my teaching portfolio, you should – I hope! – have a clearer sense of my pedagogical approach. In writing about my preferred assignments, I mentioned the ability to provide detailed and differentiated feedback to students. I would like to demonstrate what I mean with some samples of student work along with my written feedback.
In the documents below, you will find student work drawn from International Cinemas: A History of Chinese Cinema. Assignments included weekly responses to weekly film screenings. These responses were introduced and handled as a low-stakes writing assignment graded on a 0-3 points scale. Essentially: 3 = good; 2 = ok; 1 = poor; and 0 = not turned in. I have found that smaller but more frequent writing assignments allows me to provide valuable feedback that can be given incrementally and evolve with the students' application of my suggestions in each succeeding assignment. Poor writing and grammatical tendencies reveal themselves fairly quickly, and I have found them much more easy to correct in this format.
Another assignment included here is a final Meta Response. In the Meta Response, students are required to critically reflect on their weekly film responses as well as provide a critical take on the pedagogical strengths and weaknesses of the assignments themselves, particularly compared to a more traditional research paper
To ensure student privacy and maintain legibility I have labeled each sample with the student's initials and the name of the assignment.
In order to obtain a more thorough look at one student's progress, I am including student KW's 2
nd
, 3
rd
, 5
th
, 6
th
, 7
th
, and 10
th
weekly responses as well as his final Meta Response. These assignments were originally submitted online through Desire2Learn, where I would also leave my comments. For ease of accessibility and reading, I have copied my original comments to the end of each assignment, complete and unedited in red font.
You can find this (15-page) document here:
KW Student Sample
. It's not the prettiest looking document, but it will have to do.
Some additional samples of student work are included below, without my comments. I include these here to suggest the range of analytical work taking place as well as some different reactions expressed in students' Meta Responses:
​
​
Jump to:
Powered by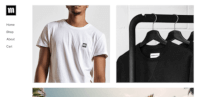 Create your own unique website with customizable templates.