It seems like I can't go more than a day or two without seeing another video of someone being "ripped," "schooled," "destroyed," or "shut down" after saying some racist, misogynistic, hateful, or otherwise ignorant thing. There are whole shows that are practically dedicated to this kind of content. And you watch it. Because you want to see that moment when the ignorant individual makes that comment you so completely disagree with. You can't believe it. How can anyone

actually

believe that? But that's not even the best part. The best part is how they are completely shut down by the interviewer. They're able to say what

you

wish you could say when faced with that kind of ignorance. They put it together so intelligently and snarkily, maybe in the form of some elaborate and expletive-riddled analogy, that you feel a sense of triumph. Like you and that interviewer collectively fought ignorance today and won. I've watched a lot of these videos. And I've laughed at a lot of them. But I'm finding myself increasingly uneasy with them. It took me some time to figure out why, and a little longer to be able to put it down in a string of words that – hopefully – make sense, but here goes.
Powered by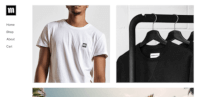 Create your own unique website with customizable templates.