AMC's new show Into the Badlands premiered this past Sunday and man, what an opening!

I've

written before

about how I've seen the Chinese martial arts cinema aesthetics travel to Hollywood, particularly through the success of The Matrix, and it's very exciting to see it coming to the small screen too!

I've also written about

Inseparable

, starring Daniel Wu, who leads the cast of Into the Badlands. Another topic I've written about quite a bit – but never on this blog – is the representation of Chinese men in Hollywood. What I'm trying to say is, partly as a means of full disclosure before I really get into this, is that Into the Badlands brings together quite a few of my favorite things, making it virtually impossible for me to dislike it. I can already tell that no matter where the story takes me, I'm going to be very forgiving towards this show. Not only because I personally enjoy the various elements that creators Al Gough & Miles Millar and producers Daniel Wu & Stephen Fung have brought together, but also because it feels like a relatively important show to support.
Powered by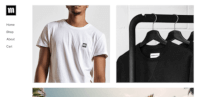 Create your own unique website with customizable templates.