I came across the image above about a month ago, and decided it sounded like the perfect time/excuse to introduce my 9-year-old son to the Marvel Cinematic Universe with the coming of the new year. And thus was born

The 2018 Father-Son Marvel Movie Marathon Extravaganza

, or

The Marvelthon,

for short. When I shared my plan on Facebook, my friend Maria had the awesome idea of having him write blog posts for each movie. Ultimately, I decided that for him, blog posts might be a little too open-ended and intimidating, so instead I'll be giving him some questions to answer and which I'll type up as posts – verbatim, with typos and all. Maybe I'll even share some of my thoughts on his answers and where I might take future questions. Related: I teach high school film and media courses, so he's been asking me to give him some "movie lessons," as he calls them. So I see this as fulfilling that request too.
Powered by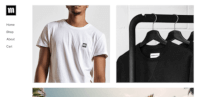 Create your own unique website with customizable templates.