Ferguson. Mike Brown. Sexism. James Foley. Rape culture. Ezell Ford. Anita Sarkeesian. John Crawford. Fraternities. Steven Sotloff. Racism. Zoe Quinn. Misogyny. ISIS. Ray Rice. GamerGate.

I think there's a connection between every word and name on that list. It's tempting to treat them as though they have to do with largely disparate issues like racism, gun control, law enforcement policies, feminism, video games, international relations, national security, presidential action, terrorism etc. Or that they need to be dealt with in complete isolation of each other. But on a very basic level, they all have to do with one simple thing:

how we relate to each other as human beings

. When we focus on the minute specifics of the situations above, we get farther and farther away from the basic fundamental problem of

how we MUST treat each other as fellow human beings

.

​

Before any long-lasting change can take place, it seems like we need to reach some general consensus around the answers to (at least) two questions:
Powered by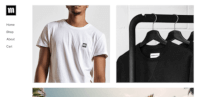 Create your own unique website with customizable templates.