Season 3, Episode 1:

Enter the Phoenix

Wow. What a season opener! I was thinking of writing something after each episode, but don't want to make it too long either, so here's where I landed. My goal will be to post some hopefully-weekly quick thoughts about what stands out, no more than 2-3 days after each episode. I feel like they should be pretty spoiler-free, since I don't see myself spending too much time on the specific events of the episode. But, in the event that I do, I will definitely give you a SPOILER ALERT.

​

This post will be SPOILER-FREE. Though I will have some screenshots.

It's been criminally overdue, but I'm finally catching up on Season 2 of

Into the Badlands

, and – mark my words – I will never let another season go by to be caught up later! I feel like AMC developed a technology to go into my head, scour the depths of my psyche for everything I love – and didn't even know I loved – and created a show from their exploratory efforts. To name a few of its Munib-approved elements: post-apocalyptic settings, kung-fu action, western aesthetics, fantasy-ish elements, Daniel Wu, a diverse cast, strong female characters, father-son relationships, Chinese martial arts cinema aesthetics, appropriate and knowing nods to martial arts cinema history, etc.
Powered by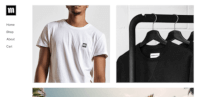 Create your own unique website with customizable templates.